H1. 2023 Retail
Posted: July 2023
Strong retail sales momentum in Alberta continues. January 2023 saw record-high sales at $8.7B. Immigration continues to stimulate demand. Edmonton's retail market adapts, showing resilience and investment opportunities.
H2. 2022 Retail
Posted: January 2023
After reaching historically high levels in Q2 2022, consumer spending in the Edmonton area started to decline in Q3. October reversed this trend with a moderate increase in sales. Consumer spending…
H1. 2022 Retail
Posted: July 2022
The retail sector continues to face challenges, namely labour shortages, high inflation and continued supply chain issues. Despite these setbacks, retail activity is recovering to pre-covid levels….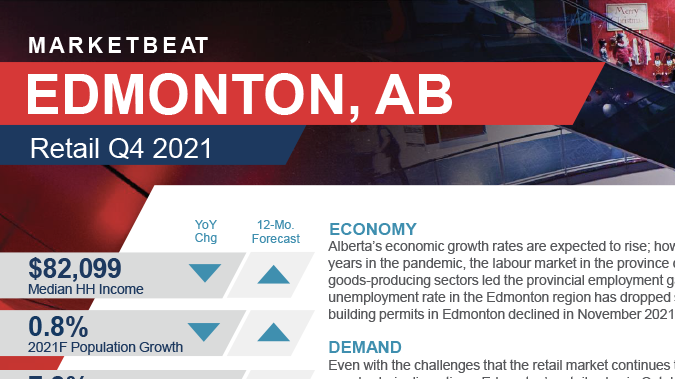 Q4. 2021 Retail
Posted: January 2022
Retail groups with a stable revenue continue to see strong retail activity and have had the opportunity to grow.
Q2. 2021 Retail
Posted: July 2021
While the city continues to see sluggish retail growth in the downtown core, retail developments with high visibility and high traffic locations, such as grocery-anchored shopping centres in the…
Q4. 2020 Retail
Posted: January 2021
Retail sales in Edmonton for October 2020 increased by 2.3% month-over-month and by 8.9% YOY. However, the YTD retail sales total as of October 2020 is still lower than pre-pandemic levels, 3.2%…
Q2. 2020 Retail
Posted: August 2020
Due to mass closures, reduced business hours, and changing consumer habits, retail sales in Edmonton for April 2020 has decreased by 13.4% month-over-month, and by 31.8% year-over-year.
Q4. 2019 Retail
Posted: January 28, 2020
Edmonton's retail market was stable through the second half of 2019. The inevitable store closures observed both nation-wide and locally have made several big retailers cautious in their plans for growth and expansion; however, certain companies seemed unaffected by this trend.
Q2. 2019 Retail
Posted: August 7, 2019
With big retailers such as Home Outfitters and Payless Shoes recently exiting the Canadian market and several retail chains in the process of shrinking their number of locations, concerns have been raised amongst both retailers and consumers. However, the Edmonton retail market has remained resilient as both international and local retailers continue to express interest in Alberta.
Q4. 2018 Retail
Posted: January 31, 2019
The opening of several retailers including Nordstrom Rack, the Premium Outlet Collection, multiple cannabis retailers, coupled with strong retail sales in existing large retailers in the market contributed to this year's overall positive sales volume.
Q4. 2017 Retail
Posted: January 16, 2018
Rents have also seen a general increase in the past two quarters as retailers seek newer or better located space in a competitive market.
Q2. 2017 Retail
Posted: July 24, 2017
Retail continues to be the most resilient of all commercial real estate asset classes in Edmonton.